Abstract and poster submission registration and delegate registration are now open.
---
Effectively communicating your research is a crucial part of the knowledge creation process. It generates opportunities for collaboration and can inform the development of new interventions and policy changes. But how as researchers can we ensure that our work is communicated with innovation to allow for such effective impact?
---
To stay up to date on the planning progress of the conference, make sure to read the monthly updates from the chair of the committee!
October update from the chair of the committee
August update from the chair of the committee
July update from the chair of the committee
June update from the chair of the committee
---
CALL FOR PAPERS AND POSTERS IS NOW OPEN (Deadline – Monday 30.09.2019)
ABSTRACT
MAX. 400 WORDS (Please include a title)
We are looking for abstracts, papers and posters that relate to the effective and innovative ways in which you have been able to communicate your research. We are particularly interested in two aspects:
1. Effective and Innovative communication OF your research. We encourage you to think creatively about how to present your research at the conference. Consider using images, music, dance movements, objects in your presentation. Use anything you find creative and useful in presenting your research.
2. Effective and Innovative communication IN your research. We are interested in what you have done to communicate in your research process. Here are some question you may wish to discuss (please use this as a guide):
How did you first interact with a certain person, and how did you work collaboratively on a project after that? How did you maintain communication throughout?
How did you communicate your research with participants, collaborators or stakeholders?
How do you communicate your research with the public?
Do you use social media, platforms or technology to put your research out there? How have you marketed your research?
Have you presented your thesis in a novel way?
How did you communicate your ethics?
How do you keep people engaged?
These are just examples to get you going but we are interested in anything that you have done or are planning on doing for your research. Even if you are at the beginning of your research journey (Masters or 1st year PhD)!
You will be notified whether your abstract has been accepted by 27.09.2019.
---
POSTERS
We are looking at effective and innovative ways in which you could present your poster. This poster can be in relation to the research project you are currently working on or your research proposal. Non-SWDTP funded students may also submit posters. Be as creative as you wish! Posters may also be brought on the day without registering them. Any questions, please contact us.
---
TICKET OPTIONS
ABSTRACT AND POSTER SUBMISSION REGISTRATION. If you are planning on submitting an abstract for a presentation at the conference, please select the "abstract submission ticket". If you are planning to bring a poster to be displayed at the conference, please select the "poster submission ticket". Abstract and Poster submissions open 28.06.2019 and close 30.09.2019.
GENERAL TICKET REGISTRATION. For both SWDTP and non-SWDTP students who wish to attend the conference but not submit an abstract, select "general admission ticket", available 02.09.2019.
NEW COHORT REGISTRATION. A limited number of tickets are withheld for the "new SWDTP cohort" – these will be available from 18.09.2019 (those who attend the SWDTP induction in Bristol will have the option of signing up to the conference in person) .
SUPERVISOR REGISTRATION. If your SWDTP student has invited you to attend the conference, please select the "supervisor registration" ticket option. These will be available from 02.10.2019.
PLEASE NOTE – if you register for the conference with the intention of submitting an abstract or a poster you are ALREADY registered to attend the event. You will not need to register again at any later stage.
For all registrations please indicate your dietary preferences and home institution. If you require any special assistance, please do let us know and we will make sure this is provided for you.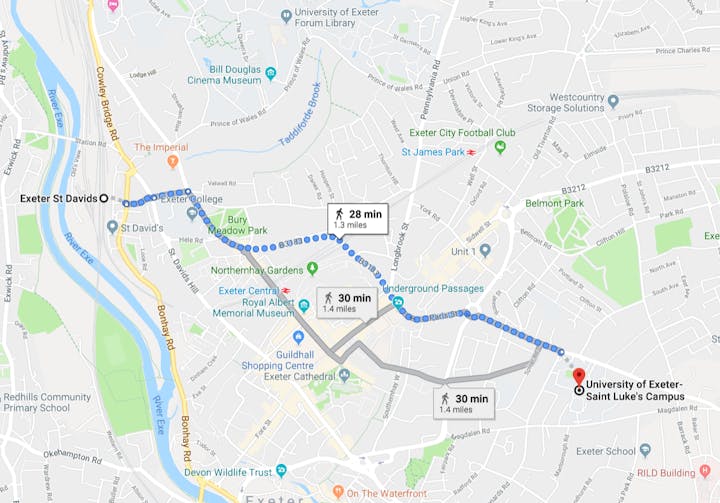 LOCATION AND TRANSPORT OPTIONS
The address to the St Luke's Campus is:
University of Exeter
St Luke's Campus
Heavitree Road
Exeter
EX1 2LU
CAMPUS MAP: https://www.exeter.ac.uk/media/universityofexeter/webteam/styleassets/images/maps/St_Lukes_Map_A3_with_key.pdf
---
We encourage people to use sustainable, public transport:
Exeter has two railway stations – Exeter St David's (main station) and Central. Exeter St David's station is about 30 minutes walk and Exeter Central Station approximately 20 minutes walk from the St Luke's Campus. Taxis are available from both stations. The D bus stops outside St David's and Central Stations and will take you to St Luke's Campus (see bus details above). The average journey time from London Paddington is 2 hours 30 minutes to Exeter.
GWR have kindly offered 50% off travel to and from the conference at the University of Exeter. All delegates will need to click the link WWW.GWR.COM/CONFERENCE and select Exeter and chose their origin. The fare is fixed for the outbound leg but fully flexible for the return and offers a sizeable discount for conference delegates (Plymouth £9, Bristol £14, Bath £14, Paddington £44). The return can be used on another day if anyone wants to stay in Exeter overnight.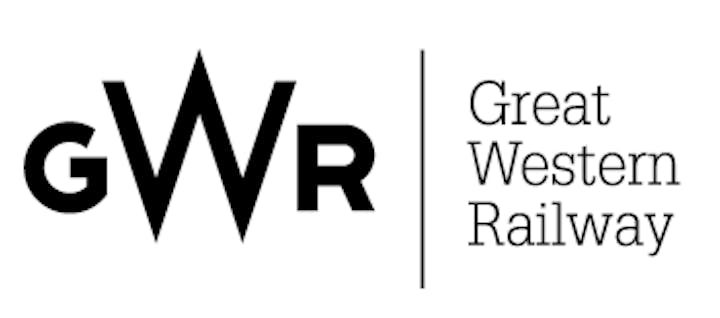 ---
A free minibus transfer is available from Exeter St David's to St Luke's if delegates arrive on a service scheduled to arrive no later than 10h09 (this is the final service). The minibus is to the right upon exiting Exeter St David's station and is clearly marked with University of Exeter branding. The St Luke's stop must be requested from the driver.
Alternatively, e-bikes are available at the station and bus or taxi transfers are available.
---
The St Luke's Campus is served by the D bus route. The D bus route includes Digby, St Luke's Campus, the City Centre and Streatham Campus (download D Bus Timetable PDF).
National Express coaches (08705 808080) call at Exeter Coach Station. The local D bus connects the coach station to Streatham Campus. Get off the bus at the top of The Queen's Drive.
---
Apple Taxis Exeter (01392 666666) have a dedicated taxi rank on campus. Apple Taxis have offices at both Exeter St David's rail station and Exeter International Airport.
---
The M4/M5 links Exeter directly to London, the Midlands, South Wales and the North including Scotland. The average journey time from either London or the Midlands is 3 hours. Download our detailed directions to St Luke's Campus by car.
Please note that visitor parking at the St Luke's Campus consists of merely a handful of spaces.
The University has a private car sharing group through carsharedevon for staff and students – a free and easy way to save money and help cut congestion.
---
If you have any further questions you can contact the organising committee at swdtp19@gmail.com
To keep up to date with the conference follow us on: